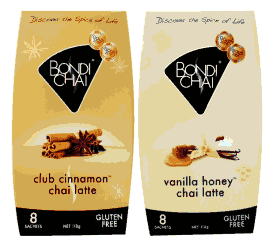 There is often so much gloom and doom surrounding Australian industry (food or otherwise) and sometimes it feels very difficult to buy Australian made foods, never mind about the company being Australian owned.
When the press release dropped in the inbox, announcing that Bondi Chai was now available retail my first thought that this was not for me, or Eating Adelaide. The most exotic I get with my tea is matcha and if I'm out I will always drink coffee because cups of tea in cafés are just never the same as the ones you make at home.
However, the word "Australia" was mentioned a few times which made me dig a little deeper. The good news is that Bondi Chai is 100% Australian owned (it's a privately held company) and 99% of its ingredients are sourced from Australia.
You may be familiar with Bondi Chai from café menus but you may not know that in April this year it became available retail. Packs of eight single serve sachets are available from Woolworths for $6.99. It comes in two flavours: club cinnamon and vanilla honey.