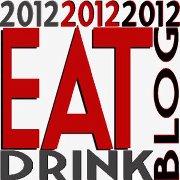 If you're a food or drink blogger (and very often I suspect that the majority of food blog readers are other bloggers!) you might be interested to know that this year's Eat.Drink.Blog (Australia's own food blogging conference) will be held in Adelaide on Sunday 4 November.
A shiny new website will be launching at midnight tonight and, naturally, there is a Facebook page and twitter account so there is no excuse for not keeping up with all the information. As with all conferences, seats will be limited so keep your eyes open for registration details.
And note that it's not just food bloggers. If you're a beverage blogger we (that's the organising committee, of which I'm a part, and the whole of South Australia!) would love to have you along too!
Adelaide people should also be keeping their eyes open for issue 2 of Gram Magazine. It's a free street paper format food and wine magazine that you'll be able to find about the place and this month you'll be able to read the Eating Adelaide review of Udaberri, along with wine reviews by Vino Review, and reviews and recipes by other local bloggers, including Erin's Hunza pie.