The next cookbook off the shelf (and, in this case, next bread) is Danny's Cookbook, which was given to me by my in-laws as a Christmas present in 2012 and … um … hasn't been used.
This looks to be a (slick) self-published effort, written by Danny Moisan who was head chef (patron etc etc) at Danny's at the Harbour View, St Aubin, Jersey. The restaurant seems to be no longer extant, which I guess is what happens if you take the best part of 10 years to use a cookbook. My in-laws pre-pre-covid used to visit Jersey for an annual holiday and, I believe had eaten at the restaurant.
On to the recipe … obviously bread baking being the order of the day (although I do like the look of the 'wasabi potatoes' recipe on the next page). This bread, unlike the brioche, is short work which I made even shorter work of by using the stand mixer. You'll spend more time prepping the bits and bobs than doing anything else.
But here is where we hit a problem. The recipe (for 8 servings) uses a WHOPPING 2.5kg of flour. If you make bread as often as I do … some bells start ringing. One loaf is normally around 500g of flour … maybe the good people of Jersey really really like their bread.
We reduced the recipe by 5 to work with the more familiar 500g of flour. But then we hit weird things like 2/5 of a carrot and TWO (I kid you not) olives. So then I took the base recipe and took some liberties. As it was, I felt the flavour was still underpowered. In terms of general bread qualities, it was fine. It had a nice even crumb that was tight enough to make a sandwich out of, and it toasted well. But after the variety of ingredients that went into it I was left thinking … shouldn't there be something more?!
Will I make this again? No. Will I make loaves of bread that incorporate rosemary, garlic, sun-dried tomatoes and olives (in varying combinations)? Definitely. Even though this was pretty good bread (and absolutely out-performed the brioche), the number of inclusions means I won't revisit it as a plain bread because it would be just too hard.
Which leads me to conclude that it's a good recipe but something got messed up in the translation from restaurant volumes to home volumes …
Perhaps if you make it & bump the up flavours you can let us all know.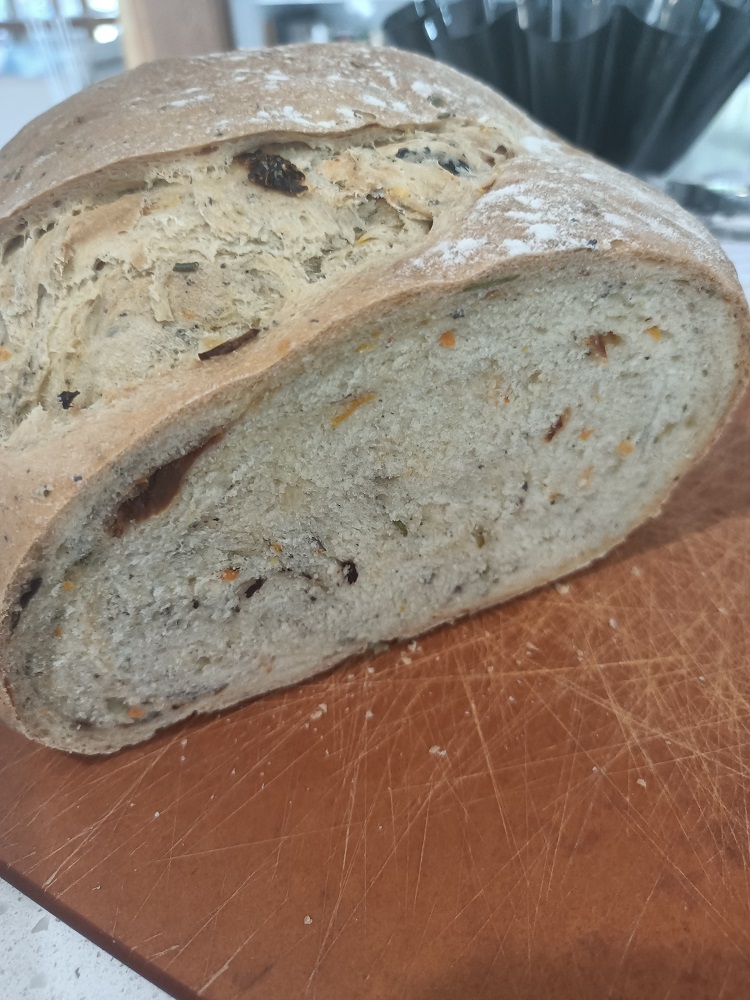 Danny's Bread – heavily adapted
Ingredients
1.5 tsp dried yeast
200mL water
5g sugar
half a carrot – peeled & grated
20g sun-dried tomatoes, cut into strips
1 clove of garlic, crushed
10 black olives, sliced
1 tbsp fresh rosemary, chopped
1/2 tsp salt
olive oil
Directions
Mix the water, dried yeast and a bit of sugar in a small bowl (ramekin, cup …) and leave to activate.
Put all the dry ingredients plus a healthy splash of the olive oil (so basically everything bar the yeast/water mix) in the bowl of a stand mixer and lightly mix together.
Add the yeast & water mix and mix to a dough. You may need a little extra water.
Knead the dough by hand for five or so minutes – until you have a springy, elastic dough.
Return to the stand mixer bowl, cover and leave to prove for 30 minutes. It should roughly double in size.
Tip the dough out, knock back, lightly knead and shape into a ball.
Place the loaf on a non-stick tray (I use a silpain mat) and prove for another 30 minutes.
Pre-heat oven to 160C (fan bake) and cook the bread for about 40-45 minutes.
Cool on a rack.