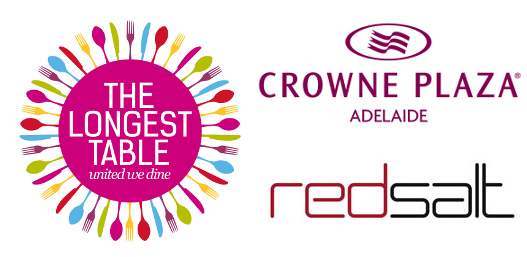 I am sure that most people reading this page have had cancer touch their lives in some way. I was thinking about this idly this morning and without even trying came up with the names of seven people I know who have or have had cancer. You don't need me to tell you that treatment is long winded, unpleasant and even if you're lucky to be declared cancer free, it still hangs over you.
Which is probably not what you need to read on a Friday lunch time …
Of course, research into all facets of cancer is essential and costs money and this year The Hospital Research Foundation is running The Longest Table to encourage people to get together and raise that money. Host, or attend, a dinner on Saturday 28 June, get your mates to donate and job's a good 'un. You don't even have to cook – you can go out.
And … if you want to go out, then you could do a lot worse than heading to the dinner being hosted by Redsalt at the Crowne Plaza (I dined there a couple of weeks ago – I can recommend it!). The meal is being spearheaded by bloggers and social media types and represents a great opportunity to both checkout Redsalt's South Australian produce focussed menu AND garner yourself a bit of good karma and warm fuzzy feelings at the same time.
The menu is going to feature ingredients such as heirloom tomatoes, Coorong mullet and Kangaroo Island lamb (the full menu is posted on the Eating Adelaide Facebook page) and the ticket price includes your three course dinner, drinks and some sparkling company.
There are just 25 tickets available and they are priced at $120 each. To book, contact Chloe at The Longest Table (08 7002 0813).
And if you can't head along to the dinner, consider donating through the Longest Table website.