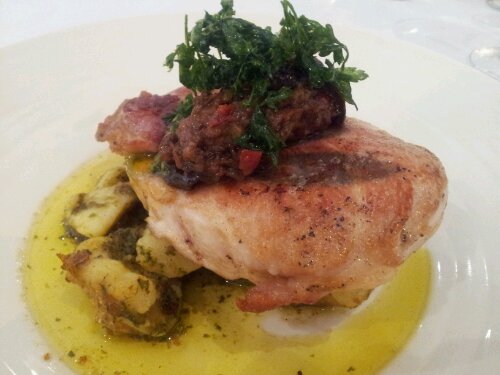 date of visit: Wednesday 28 November 2012
The short version of this post is that the food was very, very good.
The long version? Here goes.
Adelaide's Hilton is turning 30 and, for the month of November, the hotel has been running a ton of promotions. I spotted one of these promotions on Facebook: a $30 3 course lunch, valid mid week for the entire month. The deal duly grabbed, it loitered around in my inbox until I happened upon a day off work. As instructed, on 26 November (so a good way into the month!) I rang the Brasserie to make a booking. The first person I spoke to hadn't heard of this deal and put me on hold, the second person I spoke to (perhaps someone who randomly picked up the phone) also didn't seem sure. "Hmmm, maybe the deal is not valid at lunch time, I only work mornings, no, it should be all ok."
When we arrived, our reservation was in order and our voucher was examined and taken. We sat down and were presented with the à la carte menu. "Are you sure this is right? Do we not have a special menu for the $30 lunch deal?". Hmmm, the waitress wasn't sure, so off she went to check. She returned with the special menu. Sigh.
Next up, I started inspecting the wine list. Bubbles is the civilised way to start any meal and the Brasserie offers 4 by the glass. These were mostly wines I wasn't too familiar with so I asked about the $8 a glass Hardy's Riddle Brut Reserve. The response? It was along the lines of "ooooh, I wouldn't have that, it's not really very good".
Oh my god. I'm assuming the odd international guest stays at the Hilton and maybe even eats in the Brasserie. In case whoever is driving the wine list at the Hilton hasn't noticed – South Australia produces a reasonable amount of quality wine. There is NO EXCUSE to have a wine on your wine list that your staff are actively suggesting people stay away from. I'm sure you can find a good South Australian bubbly you can sell for $8 a glass …
After I'd picked myself up off the chair a cruise through the wine list saw me spot an error (guys – the grape variety is Grüner Veltliner, the place in Austria is just Kremstal) so I wasn't that surprised when a question about one of the wines meant that the waiter had to disappear off for ages to find someone to ask. If you're interested, we ended up ordering a 2009 Yalumba FDW 7C Chardonnay. It retails around $25 a bottle, so the mark up to $68 is a bit steep. Cracking wine nonetheless.
You've probably figured out that the Hilton Brasserie is winning no points from me for its wine list (which I'd describe as pretty solid but tending towards boring) or wine service.
As I've mentioned – the food was really lovely. The lunch menu gave us a choice of 3 entrées, mains and desserts. I started with an octopus salad, followed by a chicken breast and wrapped up with a chocolate and hazelnut icecream.
All the dishes looked beautiful and tasted the same. My octopus salad was well seasoned, with the charry octopus set off by salt and the salad dressing (hmm, that might not sound as complimentary as it should … it was delicious). My chicken breast (huge!) was beautifully cooked, so the meat was lovely and moist. The crushed potatoes were really good and the red wine sauce worked – all top notch. My parents were similarly impressed with their food (grilled feta, followed by whiting and hand cut chips and Italian sausages). In fact, my dad's comment was "hmmm, these sausages aren't too bad at all" (that's really high praise!) and they were both very enthusiastic about the chips. As we had an extra portion of chips, I can confirm that they were, indeed, excellent.
The desserts were lovely too: Haigh's chocolate and hazelnut icecream, with black pepper roasted strawberries? What could go wrong?! Mum had the cherry ripe cheesecake and her only observation on that was that it could have done with a bit more cherry flavour.
Service wise, things are casual in the Brasserie but the staff were all attentive and keen to help out and answer questions. I could not fault their professionalim in that respect.
After such a beautiful meal, it's a shame I've come away thinking that, while I personally would return, I wouldn't take interstate or overseas guests there.
Please, Hilton, please, please fix your wine list and wine service.