South Australians are, generally, terribly parochial. Best football team? The Crows*. Best iced coffee? Farmers Union (FUIC). Best chocolate? Haighs. Best city? Obviously Adelaide. Although we will spend a fair bit of time denigrating our city, woe betide someone who's not South Australian for doing the same thing! You get the idea.
A couple of weeks ago, local food producer, Spring Gully, went into voluntary administration. The CEO of this 60 year old, family owned South Australian institution pleaded with customers to get out there and support the company's product.
And South Australians did so in style. The products promptly disappeared from supermarket shelves and, while the company's future is far from assured, support, and continued support, such as this is a really good start.
Shortly after, Robern Menz (of FruChocs fame, another South Australian icon) produced a "word cloud" of proudly South Australian producers. This promptly went viral.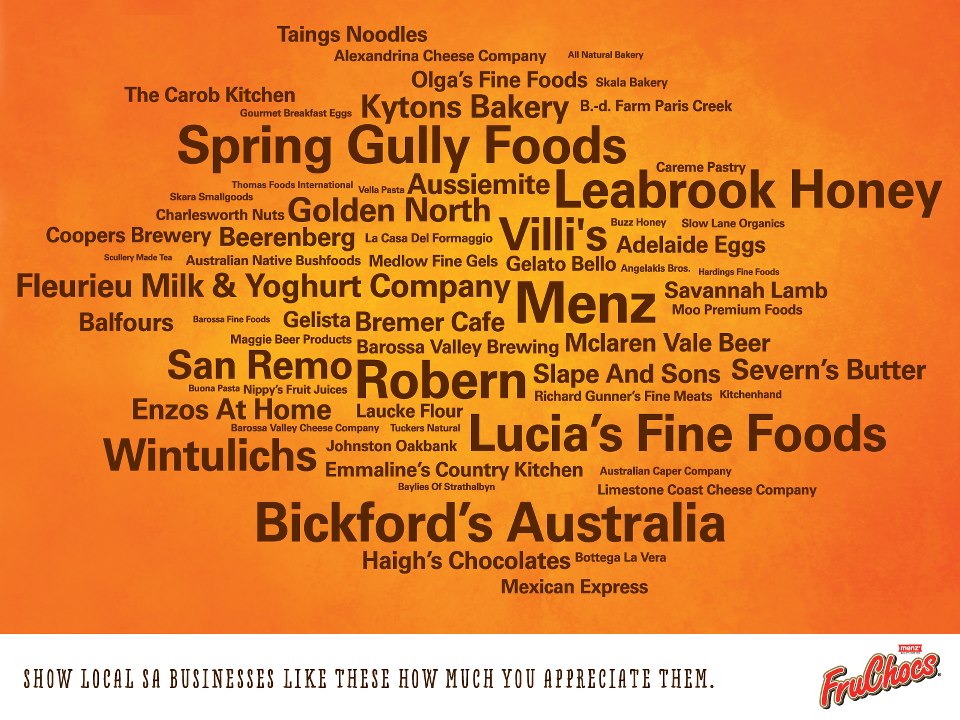 And on the back of this, we now have the "shop and swap" campaign. The idea is that when you shop, you swap just one item in your trolley for a locally owned and produced product. Perhaps you are buying cordial: swap for Bickford's. Perhaps you are buying dried pasta: swap for San Remo. Perhaps you are buying milk: swap supermarket own brand or even big brand milk for locally produced milk such as Paris Creek B-D or Fleurieu Milk Co.
The campaign is realistic: just ONE item per shop, every shop. If you can buy more, then that's great. If we could all buy entirely local products, that would be brilliant. But that's often an unrealistic goal: sometimes local is artisan so it's more expensive, sometimes a local alternative just isn't available. This is all about doing what you can.
There's a list of companies on its own page. I don't pretend it's comprehensive so please, if you know of a champion South Australian food producer who should be include, leave a comment, or drop me an email.
By supporting South Australian companies you support South Australians. These companies employ South Australians directly but also keep others employed through all the industries that support the supply and distribution of food.
Remember – it's a lot easier to maintain a company than it is to save it!
* Waiting for the flaming on that one!