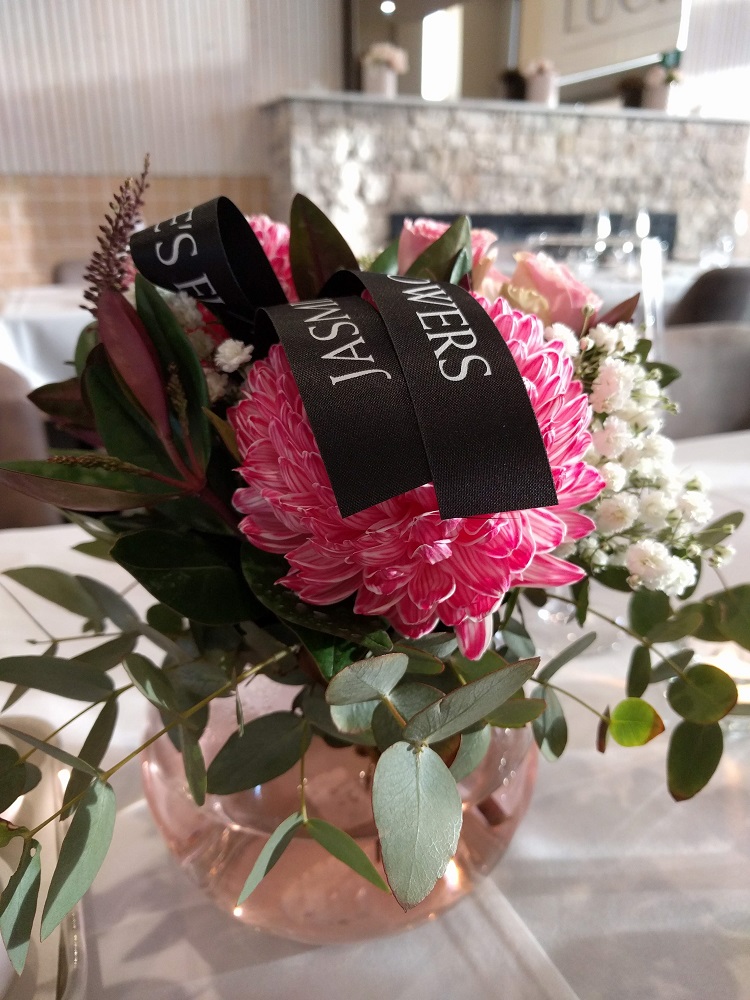 disclaimer: I was a guest at the Luciano's influencer dinner
It was a sad day when Esca down at Glenelg's Marina Pier closed. It had been one of the longer-lived venues in this somewhat tricky space and was also one of the best located – central, with both marina and sea views. And it was actually also good.
It's space has been recently reinvented as Luciano's – a modern Italian restaurant, with Adam Swanson on board as consulting executive chef and Loris Facciolo as head chef. While Adam is probably going to be a familiar name (Zucca's, San Remo ambassador) Loris probably not so much. That's because Loris hails from northern Italy and brings his Milanese experience to Adelaide.
The refit of the restaurant is very 'beachy' – my guest's word to describe it – with a big open kitchen and lots of neutral colours, with a real white-washed feel to it. Mercifully, important things like carpet, upholstered chairs, tablecloths (and really lovely cloth napkins) have been incorporated into the new design. Great news for anyone who actually wants to have a conversation! Even at our very long (and noisy!) table, you were able to hear the people next to and opposite you. This augurs well for smaller groups.
Of course, lovely furnishings, a great ambience and incredible sunsets only get a restaurant so far. The most important things are food and service (and not necessarily in that order). The waiter at my end of the table was charming (Italian, so maybe that goes without saying), efficient and helpful – volunteering mocktails for the non-drivers and ensuring that glasses were always topped up.
We were incredibly lucky to be treated to an astonishing spread of food. It felt like almost every single dish on the menu was presented to us – the idea being that we take a mouthful of everything. By the time main courses arrived, most of us were full (pasta does that to you) – it was an extremely generous spread.
I'm not going to list every dish I tried, nor am I going to put every single photo up: I'm going to go for the highlights. All the photos (good and bad!) are in a Facebook album here.
Highlight of the antipasti was the vitello tonnato. This is a dish which, to my mind, should just NOT work. Veal with tuna sauce. In English it just sounds … average (to be kind). But it is so good – the veal was beautifully tender, the tuna sauce (dressed with bottarga) was delicious. I'd have this again – and someone suggested that it would make an amazing sandwich filling. I'm on board with this – if Luciano's starts offering a vitello tonnato sandwich at lunch … I'll be there!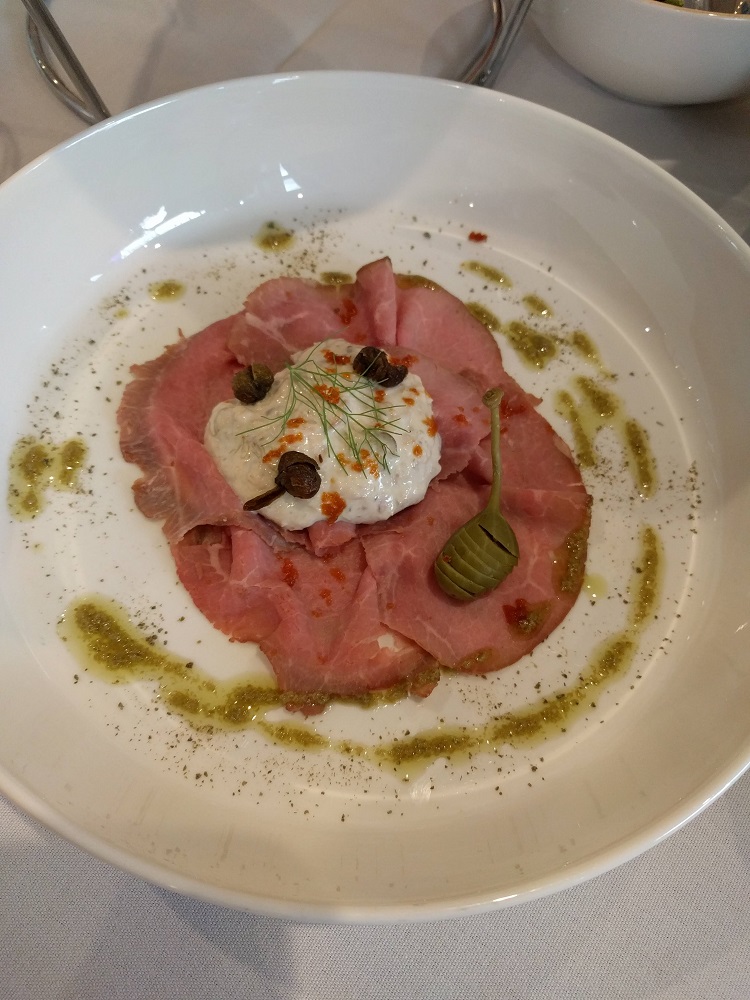 For pasta, we had mezzi rigatoni (short ones) carbonara ("no cream!" explained Adam), the linguini con volgole and the gnochetti with crab (the restaurant's signature) along with risotto milanese. I'm not not sure which was my pick here … possibly the linguini con vongole purely because I don't eat it often. Alongside the pasta, three pizzas were served – the winner easily being the prosciutto rucola e grana on the smoothness and creaminess of the fior di latte alone.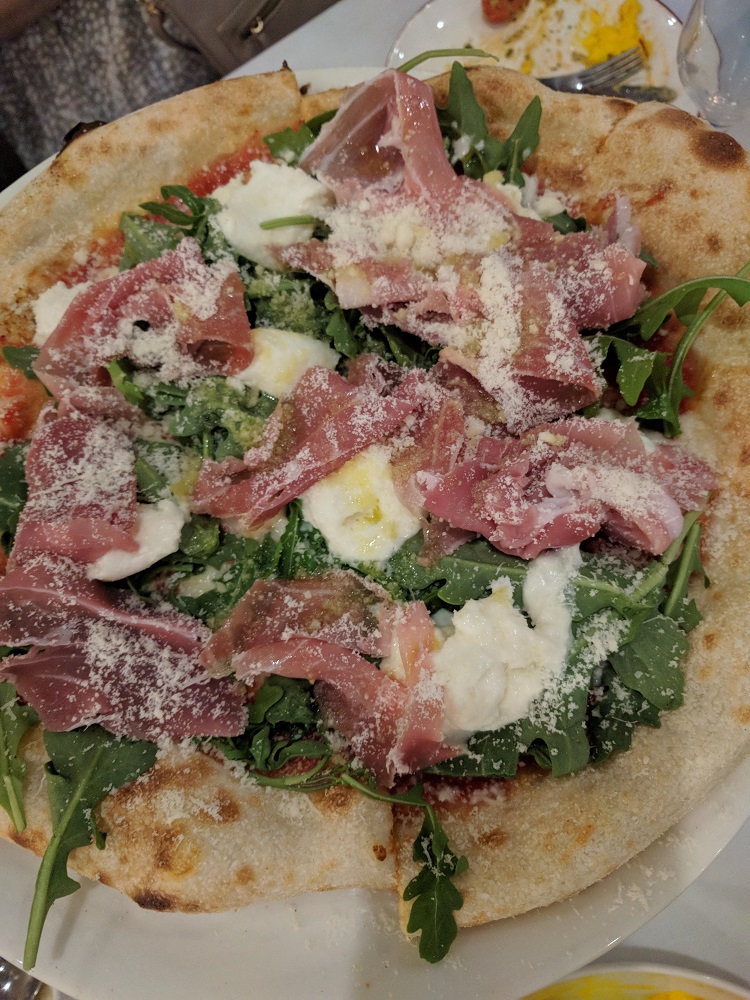 At this point the mains came out – I managed a mouthful of each. Twice cooked pork belly – deliciously tender and moist with crispy skin, barramundi parcel – also tasty and the veal cotoletta which was a big thick chop, crispy crumbs and beautifully cooked. A shout out to the side of broccolini although this could be improved upon with just a touch of chilli!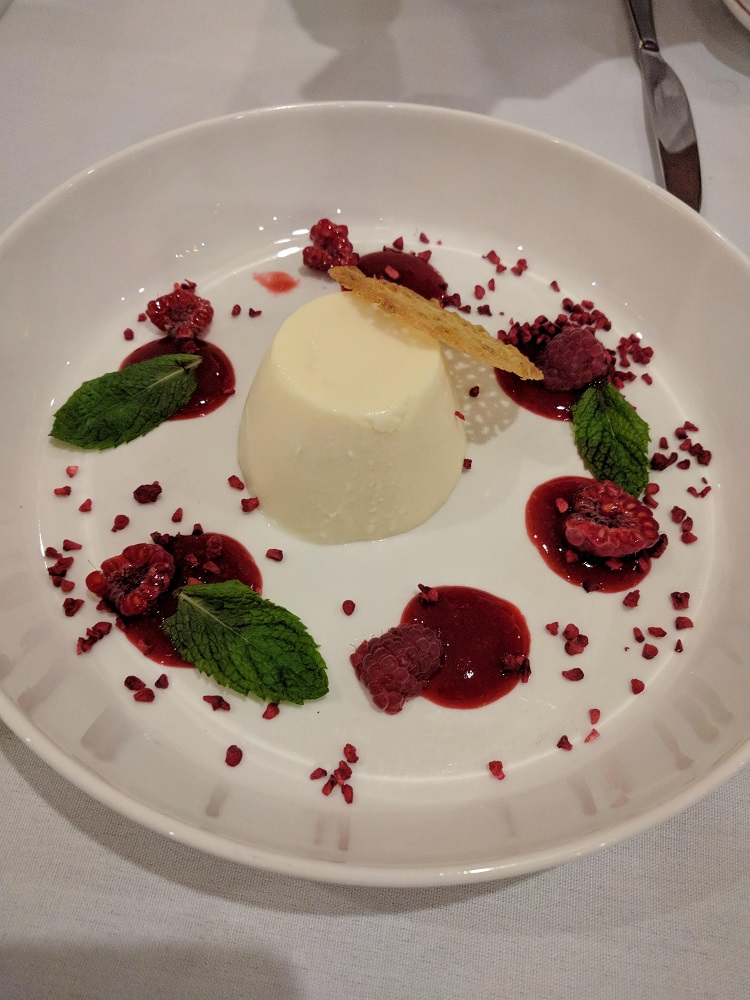 If you can believe it – we then wrapped up with dessert. Of these, the star was the white chocolate pannacotta with raspberries and pistachio. You don't hear me say that often because white chocolate is comprehensively the devil's work but this pannacotta was delicious – wobbly, smooth, sweet and cut through by the raspberries and raspberry coulis.
As I was a guest, I didn't have to worry about the bottom line but the menu prices are all standard – if you eat out often there's unlikely to be bill-shock. The menu (and drinks list) is online and the 'tutto' (or feed-me) option at $60 for six courses sounds like it should be sensational value.
Will I head back and spend my hard-earned at Luciano's? The answer is yes. I promised Master 9 I'd take him there for a meal if it was any good … maybe we'll see you there during the school holidays!