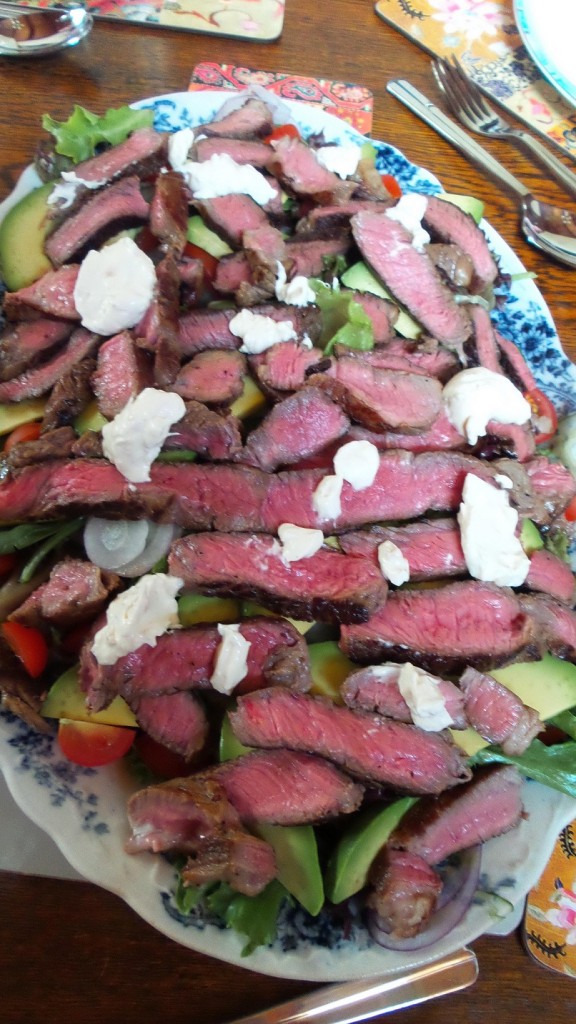 Beef and horseradish is one of my favourite things. However, it's not something I'd associate with salad. More with a massive roasted joint of meat, lots of crispy, beautifully rendered and seasoned fat served with lots of roast vege and maybe even Yorkshire puddings.
Weather-wise, we're not quite into roasted meat territory here. But this salad is a great way of enjoying beef and horseradish even if you're cooking on the BBQ. It doesn't need to be served hot – we had this as part of our Easter feast and the meat was cooked in advance and left to rest. The salad (bar the avocado) was prepped in advance, as was the dressing. This meant when it came to serving, all I had to do was cut the meat and the avocado and we were good to go.
I daresay this is pretty healthy but it's also delicious and easy. I recommend cutting the onion and cucumber using a mandolin – otherwise slice as finely as possible. You might want to hold off chopping the cherry tomatoes until the last minute too.
This recipe is based on one I found on Taste. I've made changes to suit the household's preferences.
Beef Salad with Horseradish
Ingredients
600-800g beef - we use rump or sirloin
¼ cup sour cream
horseradish to taste
lime juice
1 bag of mixed salad leaves
¼ continental cucumber, finely sliced
½ red onion, finely sliced
½ punnet of cherry tomatoes
1 avocado
Instructions
Get the steak out of the fridge around half an hour before cooking. Heat your favourite steak cooking pan with fat of choice (we use olive oil, my parents swear by a mix of olive oil and butter). Season the steak well and cook in the hot pan until done to your liking. Don't over crowd the pan - if you've got closer to 800g of steak you'll need to do at least 2 batches.
Set the steak aside to rest (covered with tin foil).
To make the dressing, mix the sour cream, horseradish and lime juice. This is a thick dressing - not a pourable one - so you don't have to add loads of lime juice.
To create the salad, in a large bowl toss the leaves, onion and cucumber. Spread evenly over a large serving platter. Before serving add the sliced avocado and the quartered cherry tomatoes.
Finely slice the beef and add this to the top of the salad. Dot the dressing over and serve immediately.
Pass the dressing separately so people can add more if they wish.
https://eatingadelaide.com/beef-salad-horseradish/