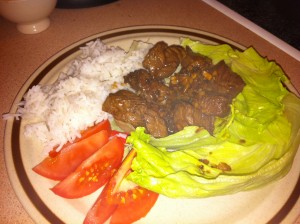 Even though I am 'at home' most of the week I don't have nearly as much time as I'd like for cooking exciting and elaborate dinners. So I am always on the lookout for tasty things that I can get out of the kitchen in reasonable time.
Trawling through my delicious bookmarks I spotted this recipe for Vietnamese Shaking Beef. A quick google indicates that this is an actual Vietnamese dish but I can't comment on how authentic this recipe is. All I know is that it's pretty quick, doesn't require a raft of ingredients and is really tasty.
The recipe comes in three parts: marinade, dipping sauce and the actual stir fry.
The marinade is really simple: for about 500g of rump steak use 1 generous tbsp of oil (use a neutral oil such as peanut), one large clove of garlic, minced, a splash of fish sauce, 1 tsp of sugar and freshly ground black pepper to taste. Fresh black pepper is a big part of this recipe, so grab the peppercorns and the grinder now!
Chop your 500g of steak into chunky bite size cubes and marinate for at least half an hour.
The dipping sauce is equal parts water and lime juice (I used ⅓ of a cup of each), with (again) minced garlic and fresh black pepper and balanced with a touch of salt and sugar.
When you're ready to cook the steak, heat some oil in a wok, fry off some more minced garlic and add the steak, along with some more black pepper. The 'shaking' part of the dish's name comes in now – as you're supposed to keep the meat moving in the wok. You want to brown the meat and cook it but ideally you'll leave it at least medium rare.
Finish the stir frying with a splash of soy sauce and a sprinkling of sugar.
Serve the cubes of beef on lettuce, with sliced tomato and steamed rice on the side. Pour a little of the dipping sauce over the meat and serve the remainder on the side. Whatever you do, don't skimp on the dipping sauce – the lime juice really makes this dish!
We all rated this dish highly – definitely one we'll be making again.