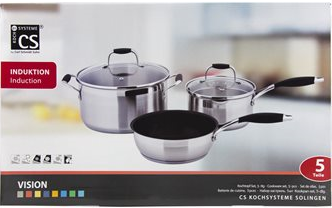 Disclaimer: Crest Electronics supplied both the prize for this competition and a set of pans for me to try.
A couple of weeks ago I was discussing this post and giveaway with a food blogging friend. I was excited about both the product and the giveaway and she expressed some reservations about whether or not she'd be able to get excited about some pans.
Exhibit 1: some of the pans (now consigned to the bin) that I've been cooking with over the last 10 or so years.
I am the kitchen gadget queen and I have lots of beautiful and shiny kitchenware. And I also have a lot of really knackered kitchenware. The grey pan in the photo above: purchased in 2001 from a cheap supermarket in the UK by a student housemate. Its non-stick surface has well and truly disappeared. The 70s retro pan? One (of a set of three!) that Andy's mum purchased for him from a car boot sale prior to heading to uni. I have bought the odd pan over time but often I've been paralysed by the choice, the range of sizes and my lack of research has always meant I've spent less than I should.
So when the email arrived asking if I'm interested in reviewing … AND GIVING AWAY … the CS-Kochsysteme pans which are new to Australia (and being sold by The Good Guys) it was something of a no brainer. One of the big selling points of this cookware is that its induction hob friendly (something my knackered aluminium pans most definitely wouldn't have been!) but it does, naturally, work on other cooking surfaces. In my case (a ceramic electric hob) which is critical is flat bottomed cookware that won't warp. Trust me – even these days it's possible to buy stuff that is either not flat to start with or doesn't stay flat for long.
I was sent the Vision 5-piece set (and you can win one … keep on reading) which retails for $199. This set consists of a 7 litre stockpot with lid, a 1 litre saucepan with strainer lid and a 20cm deep non stick frying pan. The pans are all beautiful: I'm a sucker for a brushed stainless steel finish and I consider glass lids (with steam holes) an absolute essential – I've never understood why someone would NOT want to see in the pan!
The saucepan has pouring lips on both sides making it suitable for left or right handed cooks and the strainer lid is, frankly, an excellent idea. Cooking pasta for one in this pan, the strainer lid meant that I didn't have to dirty a colander in order to drain my pasta. Simply swivel the lid to line up the coarse holes with the lip and pour the water out – job done. I don't think I've seen this on saucepan before and now that I have, I find it remarkable that it's not more widespread.
The stockpot has so far been used for cooking pasta. I like to use a generous amount of water and the stockpot is a lovely change from the small 70s pan! I think it would handle pasta for up to about 4 quite comfortably. I've also made a curry (recipe to come) and a bolognese sauce in the stockpot. It gets a HUGE tick from me for being big enough to cook generous quantities in while still fitting in the dishwasher.
The frying pan, with its lovely high sides, is perfect for cooking small stirfries or scrambled eggs for two. I imagine it would also be very good for risotto (having a greater surface area means the rice will cook more quickly) and, if you ever need a bit of quick deep frying, I think this frying pan would come to your rescue.
As someone who agonises over pan buying, I'm quite happy to say that these are quality products and that the set is well thought it. It would be a generous gift for someone who was just moving out of home and is a great options for couples looking to upgrade some knackered cookware.
And the best part? Well, you can win your own set of CS Kochsysteme cookware. All you have to do is like the Eating Adelaide Facebook page and (optionally – but it is an extra entry) share the competition post that's pinned to the top. Just make sure you fill in the form below.
This competition is only open to Australian residents and I will verify entries. I'll email the winner who will have 48 hours to get in touch before I redraw.
Best of luck!