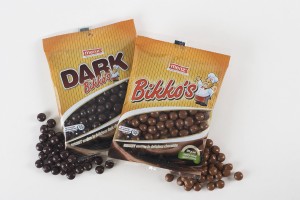 Disclaimer: Robern Menz sent me packets of milk & dark chocolate Bikkos to try. I'll be working on my entry this weekend!
If you're a South Australian you no doubt know of Robern Menz. If you don't, I bet you've at least heard of FruChocs! Well Robern Menz is the company that produces those. They also produce Bikkos, which are little biscuity balls covered in chocolate. Your choice of milk or dark.
Until 29 August you have the opportunity to win the "Ultimate Bikko's Experience". You need to use Bikkos to create something delectable (sweet or savoury) and two winners will enjoy a tour of the Robern Menz factory as well as a year's supply of Bikkos (a very generous 125g bag of Bikkos every day for a year).
You enter through Facebook – like the page first and then you can access the entry form. You'll need to submit a photo of your recipe and you can check out the competition in the gallery.
The winners will be chosen by Robern Menz staff and Andre Ursini, of my favourite polenta bar, Andre's Cucina.