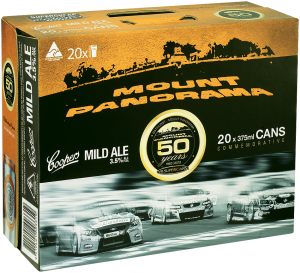 UPDATE:  Coopers has just extended its partner agreement with the V8 Supercars to the end of the 2015 season.
In the run up to this year's Bathurst 1000 (4-7 October) Coopers has released a special Bathurst pack.
In the same year that Coopers celebrates its 150th birthday, Bathurst is marking its own milestone: its 50th anniversary.
The Bathurst Pack contains 20 cans of specially labelled Coopers Mild Ale and is only available in the run up to the Bathurst weekend.
Coopers is a major sponsor and the exclusive beer partner of the V8 Supercars.