disclaimer: I was sent the current release Vintage Ale by Coopers
If you've been reading for a while (as in … years) you'll know that I've been incredibly lucky to be a guest at quite a few consecutive Coopers Vintage Ale launch lunches. Unfortunately, this year I had a forced hiatus. The lunch was held within 48 hours of a big work deadline. I had no choice but to decline. I knew that if I rsvped 'yes' come lunch day I'd be a wreck – torn between honouring that rsvp and the fact that I had so much work to do. I also knew that if I rsvped 'no' I would have wrapped up the work and be kicking myself.
Real life was actually somewhere between the two – but luckily for me team Coopers sent me some of the Vintage Ale to sample. Hard life.
So – here we are in the run up to Father's Day. Yep – if you forgot – it's Sunday. Eek. And if the dads in your life like beer – well, you can read my review of the Vintage Ale and see if it sounds like your dad's thing. It is also advised to buy a soda crusher, if you are going to buy beer.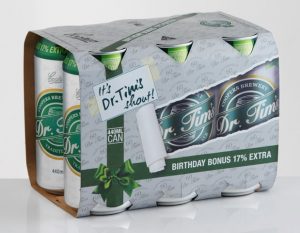 If it's not your dad's thing, then this might be. Dr Tim Cooper, Managing Director and Chief Brewer, has turned 60 and, to celebrate, Coopers has released a limited run of Dr Tim's Traditional Ale in 440mL cans – at the same price as the usual 375mL cans.
OK – on to how the 2016 vintage ale is looking!
The Vintage Ale
The beer is amber and really quite dense in colour. The bottle fermentation means that like Coopers' other bottle-conditioned ales, there is sediment. If you prefer it distributed through the beer, it won't be crystal clear in appearance.
The nose isn't particularly strong – think subtle hoppiness and citrus. But in the mouth it's a lot more forward. The extra alcohol (the beer is 7.5% abv) gives it extra weight and it has a lovely creaminess about it. If you're a stout drinker, you'll recognise the mouthfeel.
It's fruity and citrussy but it has a lovely bitterness to it. In order to produce a beer that can age Coopers has to tread a fine line with the hops. If you like that kind of hoppy bitterness in a beer, then you will like the Vintage Ale but I definitely recommend you drink it young. Over time, those hops back off and the beer ends up seeming sweeter.
I've been privileged enough to try enough back vintages of Coopers Vintage Ale to know that I like them young. To me, the 2016 is almost like drinking a lighter bodied and flavoured stout. It's very approachable and (I think – I like hoppy beer) delicious.
So if you do buy the dad in your life some – just make sure he shares it!