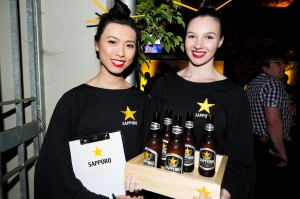 Disclaimer: I was a guest at the launch party.
Last Thursday night, Coopers held the Adelaide launch of its new beer, Sapporo.  Wait, nothing new about Sapporo, right?  It's a Japanese beer first brewed in 1876 so why the launch?  Because Sapporo is now being brewed, under licence, right here in South Australia by Coopers.
To celebrate this, beer lovers from across Adelaide gathered at the Robin Hood in Norwood to sample the 'new' beer and snack on some very tasty Japanese inspired treats.  The pub's beer garden was decked out with a Sapporo theme, including a wall made up of Sapporo maneki neko (the Japanese beckoning cats).  Unsurprisingly there was no shortage of Sapporo, but there were other drinks on offer – even to the extent of beer themed cocktails!  The finger food was all Japanese – including huge newspaper cones of tempura, crab and noodle cakes and prawns served with a coconut rice.
Dr Tim Cooper welcomed us all and, in launching the beer, told us a little about how it all came about.  If you're keen on beer you'll know that one of the most important factors in a beer's taste is the water used in brewing it.  This is one of the reasons that, very often, a beer brewed under licence doesn't taste quite as good as the 'real thing'.  Dr Cooper said that a lot of research (and no doubt beer tasting!) had gone into ensuring that the locally brewed Sapporo tastes as good as the Japanese original.  Mr Owata, from Sapporo Breweries, also spoke, encouraging us all to have a good time and "drink lots of Sapporo beer".
And I'm sure with the hot Australian summer being just around the corner that won't be a problem!