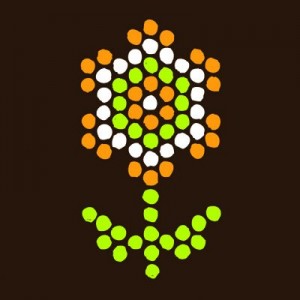 date of visit: Thursday 26 April 2012
Udaberri Pintxos y Vinos is the new cool kid on Adelaide's bar scene. It's at the northern end of Leigh Street, and if you don't know it's there and you're not looking you won't spot it.
Wait. I knew it was there and I was looking and I didn't spot it. Cue frantic text to Andy to double check the address …
So – if you're wandering up and down Leigh Street you need to look out for the logo above. When we dropped in for a drink there was no big sign and the bar has an unfinished (in an intentional way) look about it. Something I very much like and something Adelaide could do with more of. If you're bored with the homogeneity of many of Adelaide's refurbished pubs (and I most certainly am) then Udaberri is for you.
The "pintxos" part of its name is (basically) Basque for "bar snacks" – the Udaberri menu is brief and light. You won't be heading there for a full blown dinner*, but if you can get by on things like anchovies, peppers and cheese you will be catered for.
Drinks wise there are three beers on tap – they're written up on the wall which suggests they might rotate. When we were there a pint of Lobethal Brewery's Pilsner cost $9 (which seems expensive to me, but I haven't seen the beer on tap anywhere else). The wine list has a fair range of Spanish wines (nothing too crazy) so I had a glass of Albariño which was $8.50.
At present, Udaberri has a very new vibe about it but it's definitely a bar with great potential. Adelaide needs more bars like this, so head in for a post work drink. That way you can claim to have been drinking there from (almost) day one.
UPDATE: Following on from Celeste's question, I emailed Udaberri and Rob, the proprietor, emailed me back. Pinxtos are $2 at present. He also sent me a copy of the current menu. Example dishes are oysters, shucked to order with Champagne vinegar – $3 each, croquetas de bacalao (salt cod croquettes) – $8, and they offer a selection of cheeses – 1 piece $9, 2 pieces $13 and 3 pieces $16.
* If you need a proper meal in the area, try Rigoni's.