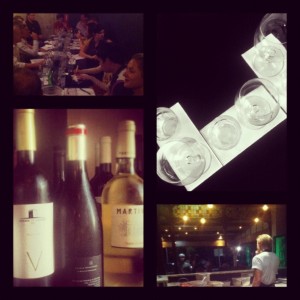 photos by Alister Robertson
date: Monday 16 April 2012
I've been really lucky recently to be involved in a few excellent wine tastings. I don't always get these written up (posts tend to be long and hard work!) but I'm going to try to get better with that – if only so everyone can feel jealous about some of the lovely stuff I've been able to try!
Last Monday Sommeliers Australia organised an Iberian Invasion tasting, hosted by Mark Reginato and Stephen Pannell. We tasted a selection of red and white wines from the Iberian peninsula (that's Spain and Portugal), as well as a few of Stephen's wines that have some Spanish influence. It was a great opportunity to try some less well known grape varieties too.
Of the whites, my favourite was the Bodegas Maranones Picarana Albillo 2010 (link only useful if you read Spanish). While it wasn't massively pronounced on the nose, the palate had a lot more to say. The wine had lovely weight and notes of butter and vanilla from some time spent in new oak. It really reminded me of bread and butter pudding, with a slightly nutty character. Stephen Pannell commented that this wine isn't a typical Albillo and that they are usually a bit fresher (so a bit more fruit, a bit more acidity), a bit more floral and without the weight or oiliness we saw in this wine. Typical or not, I'd be more than happy to drink this wine and seek out other examples of the grape.
I didn't take the time to note which of the reds was my favourite but certain wines provoked a bit of discussion. The Bodegas y Vinedos Ponce La Casilla Bobal 2009 proved divisive (I've had this wine before and liked it – you can buy it from East End Cellars). There was something slightly green on the nose, along with plenty of dark fruit and on the palate it was all about some lovely juicy black cherries, accompanied by a bit of chocolate. The tannins were certainly there, and grippy to boot, but not mouth puckering and it was all rounded out by good acidity. Personally, I can't imagine what's not to like!
The other really interesting wine was one brought along by Mark. The Quinta da Mata Maceda Douro 2003 is a Portuguese blend (from vineyard level upwards – the vines are coplanted and the wine is cofermented) which is fermented in old Port barrels. The wine was really not my cup of tea, at all. It smelled like Port and tasted (to me) like a combination of Port and a red wine that was old and possibly oxidised. You could definitely see the influence of the Port barrels on the finished product and I'm only sorry I can't find some decent information on the internet to point you towards for further details.
The real highlight of the tasting, for me, was listening to Stephen Pannell. He was a guest panelist when I participated in the Lorenzo Galli Scholarship last year so I knew what I was in for: he speaks incredibly quickly and says what's on his mind. He calls everything how he sees it. Last Monday he made some great points about marketing, wine making, cork, what sells in Australia, and personal preference.
He made the very salient point that everyone has different taste in music and this is something that is generally embraced. However, within the wine industry, there seems to be a real drive to creating wines that will be universally liked, wines that create consensus rather than discussion.
As usual, it was an excellent afternoon.
Sommeliers Australia's SA branch runs a number of tastings throughout the year and many have tickets available to non members. To check out other past events, read Wines of Sicily and Madeira Madness.